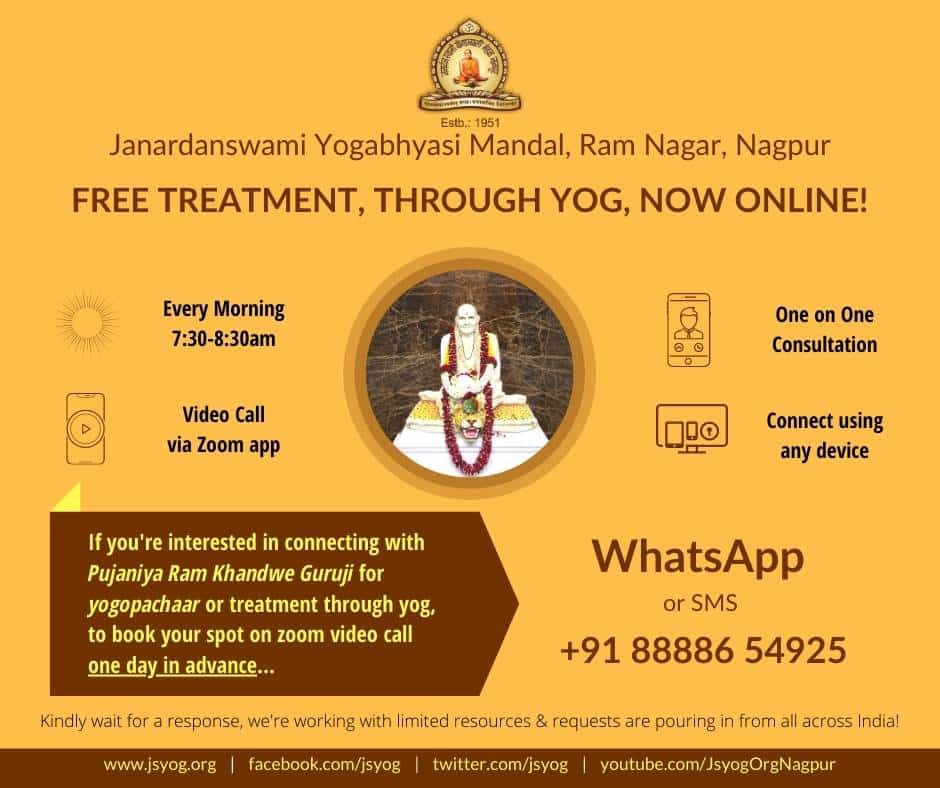 Our Guru Janardan Swamiji, was one of the first people to introduce Nishulk Rogopchar (FREE Treatment) through Yog (Yogopchar) in Nagpur. In those days, not many people knew that yog could be used as an alternative therapy for treatment of various ailments and disorders.
Swamiji started legacy of Yogopchar in Yogabhyasi Mandal, which is today carried forward by the Karyawah (Secretary) of the Mandal Shri Ram Moreshwar Khandwe, popularly known as Guruji. Guruji is not a certified medical practitioner nor he claims to be one. He takes help of the medical reports to diagnose the ailment and uses Yog as a cure. Guruji has been successfully treating patients for almost last 30 years.
Some of the disorders that are treated under the Nishulk Rogopchar (FREE Treatment) at Janardan Swami Yogabhyasi Mandal include:
High and Low blood pressure (B.P)
Diabetes
Spondylisis
Depression
All types of joint pains
Asthama
Insomnia
Obesity
Kidney Disorders
Thyroid (Hyper and Hypo) etc.
Yogopchar Varg – Now conducted daily online
Janardanswami Yogabhyasi Mandal's Yogopchar varg is conducted daily online via Zoom Video Conference call and already dozens of patients have benefited from it. Patients from outside of Nagpur can now connect for the first time with pujaniya Ram Khandwe guruji and get treatment for their health problems.
Patients from Pune, Hyderabad, Indore, Kolkota, Varanasi and as far as Dubai and Vietnam have consulted online and gotten relief to a large extent. If you're suffering or someone you know is suffering and can benefit from such treatment, kindly share the information with them.
Dress to wear :- For Gents – T-shirt, Half pant, Kurta-Paijama or tracksuit. For Ladies – Salwar Kurta or Tracksuit
Things to Bring :- All reports/documents of various tests by doctors, a cotton bedsheet/towel or any 'asan' of the size approx. 6ft x 2ft, Notebook, Pen. Please do not bring rubber yoga mats.
Eating Time :- Patients should be empty stomach when visiting the mandal (i.e. they should have eaten at least 6 hrs before visiting so as to do Yogasans) Having tea or coffee upto 2 hrs before is permitted.